This
palpable void in Roger Federer's resumé is temporarily eclipsed as he marches his way back to the GOAT (greatest of all time—I know, awful abbreviation) conversations. Fifth set, one all, 15-40. I grabbed the rosary randomly sitting beside me, gripped onto it, and started muttering invented prayers to help this forthcoming miracle surface before my eyes. Two smart serves, they were gone. Fifth set, two all, 15-40. I grabbed the prayer book randomly sitting beside me, gripped onto it, and started skimming the pages to look for a suitable prayer for one Spanish David to beat his Swiss Goliath. But forced prayers don't work all the time. The Mighty Fed reemerged and those chances never visited again.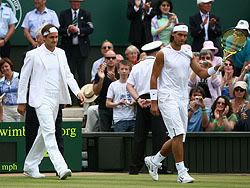 Very stylish, Roger. But it's not the smartest idea to walk after your geared up opponent.
But what a match!! Unquestionably, an instant classic. So instant that it was on
ESPN Classic
just nearly 36 hours after its completion! What's more interesting about this match, or this rivalry, is the discernible contrast between the two. Roger came out in archaic fashion while Rafa paraded his bicep-bearing dernier cri. Each has his own homecourt; Paris' red clay for the Spaniard, green grass of London for the Swiss. On court, Rafa habitually roars and motions an uppercut with a loud "si" (yes!) or "vamos" (come on!) after each intense rally. While Federer, five years senior of his rival, is counted to be the coolest-headed competitor there is in sports—which is why his verbal discharge yesterday over technology was pretty disconcerting. The match not only had a decent share of drama but it also showcased the best tennis these two played from any of their collection of grand slam confrontations. It's just borderline disappointing that Rafa had to ultimately appear fatigued after hauling Federer to a fifth set. Nevertheless, another remarkable encounter between these two, and I can't be anymore lucky to witness one of the most astounding matches
Wimbledon
has ever staged.
Congrats to TMF for completing the Borg chase, and hats off to Nadal for fronting an almost shatterproof challenge against the world's greatest player. I hope the loss doesn't dislodge Rafa's focus because with all the ruckus he endured for the past two weeks, this tournament deservingly belonged to him as much as it did Federer. Now that inevitable question arises again... Will Rafa win Wimbledon before Roger wins
Roland Garros
? I certainly don't have the analytical percipience of Bud Collins, but after what Nadal has shown on Centre Court yesterday, it's almost a coarse disrespect to say he won't. Because if he almost toppled Fed's chances of winning while having to play for the seventh consecutive day
and
with a nagging knee injury, then one could only foresee his superiority if he competed as healthy and as well-rested as Federer was. Even Roger agrees and I quote, "I think he deserves a title here." But don't get it twisted. While I'm all for Rafalito winning Wimbledon one day, my hopes of a grand slam for The Mighty Fed—although I'm already getting satiated by his consistency in finals—is still very much incontrovertible. Will he win the biggie on clay before Rafa mows his ass on grass? Let's just say, yesterday's probability is now quite unlikely.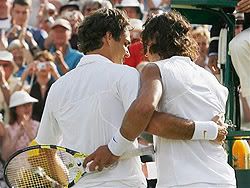 Great rivalries include inimitable streaks,
golden memorabilias,
and very tight manhugs.
Now we're off to the North American hardcourts where Rafa suffers the most. But with his exorbitant display on grass this year, especially at yesterday's final, he is not that far from being in the ranks of potential Feder-threats for the
US Open
crown. If a player of Andy Roddick's caliber—which isn't really saying much—can strip a set off Federer in the finals, then Nadal's flaws shouldn't be that badly exposed. As an obsessive tennis fan, I adore both Nadal and Federer, and there's nothing more gratifying than for this rivalry to produce more of these nail-biting, spine-tingling, and mind-blowing matches in future times. It's just sad that I'm redundantly pouring my heart out to this very same topic and you, my beautiful friends, are still not into it!! I'm telling you. Jump in before it's too late! Look at me, I'm witnessing history here!! Plus, with all the bonus yummy guys out there everyday.. Ugh, trust me.. You'll thank me later.