So yesterday was supposed to be this country's anniversary of independence. Forget about what they celebrate, I'm just all about the food and the
Kobayashi vs. Chestnut showdown
! This time
last year
, I was busy photographing middle-aged nurses who are having a great time in the kitchen with an array of Filipino dishes on the table and loadsome of BBQs to chow down, while the youngsters (and I mean, those bratty little kids) enjoy our backyard pool despite the uncooperative weather. While this year, I found myself alone in the kitchen frying sausages with our cable provider anti-festively cutting the connection (thence, no hotdog eating contest telecast for me). And the worst part? The sun was shining bright outside and rain forecasts were uncharacteristically set aside.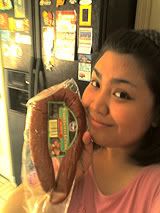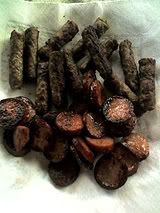 Trust me, those tasted good! After all, they should me smoked, right? LOL.
Pardon my
cooking
frying skills, or lack thereof. That's one of the main reasons why I stopped pursuing being the next
Paula Dean
. But anyway, after that meaty breakfast that my mother and brother later feasted on, I was left with nothing but the internet, obsessive video-uploading at
Multiply
, and the crappy TV antenna to entertain myself with. I couldn't cook up an appetite to make more BBQ'd stuff just to make the day worthwhile, so I just spent the rest of my day chatting up with old friends from the Philippines.
This made me realize how ridiculous I am when I, a Filipino, forgot about my very own independence day a month ago. So with that, I want to segway to
Alternati
's question #4 in my
"Interview Me"
post (below). I was being vague for the only reason that there's just a bundle of things I miss about home that I wouldn't have enough space and energy to list them all for you. But since I now feel like I owe Mother Philippines an apology, here's a special
10 things
edition about what I truly miss about my native.
1. My friends.
Because it totally sucks how half of my social life now tends to revolve around
Friendster
.
2. The village bakeries and "sari-sari" stores.
Here, whenever we run out of eggs, we always have to waste about ten drops of gasoline just to get to Kroger or Tom Thumb. Whereas back home, there's always
Manang
Rose's mini mart to buy or even
utang
eggs, salt, rice, etc.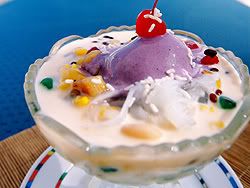 3. Taho, halo-halo and sago't gulaman stands.
Diane
and I, back in our childhood, would always call each other whenever we feel like buying taho (even during the hot summer) or going to this little burger joint by the church. And it was not just another burger stand, it probably had one of the best burgers I've ever had, plus, they also had
halo-halo
and
sago't gulaman
. While here? You can only get halo-halo from
Chowking
which is about 3-4 states away from here, and hamburgers, though generally cheap, are (per my brother) like heart attack on a platter. :))
4. The summer leagues.
My subdivision had a lame summer league—although John and Camille Prats (you know, those kids from
Ang TV!
) became regulars there over the years. I always hopped to the next village because that's where my friends were and the cutest guys played. Trust me, there's never a better place to catch the hottest sweating guy than on the courts. Y'all know that.
5. The party scene.
What I like best about the party scene back home is that it's waaaay more subtle than the wild stuff here in America. In Manila, it's normal to have a good time without having to shove one maniac's face to the bouncer because of excessive flirtation. Here? It's not an ordinary night without some horny guy feeling you up like he's never touched a woman in his life!!
6. Divisoria/Tiangge
The place for the cheapest
daster
s on earth!! And yes.. I wear
daster
s.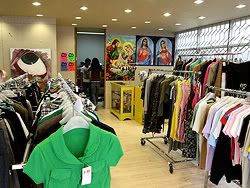 7. Bubble Gang
For some reason, I absolutely enjoyed that show. Especially
Michael V
.. Haha, I adoooore him!
8. Tagaytay and Baguio.
Tagaytay and Baguio both have the temperature I want for my wedding. Not too hot, not too cold. In Dallas, you get the best of winter and summer that you can barely feel any difference during spring and fall!
9. Tropical Hut Hamburger
Why the hell you never established a branch in America?? Are you blacklisted or something??
10. And lastly, cursing in Tagalog.
I don't get to do that anymore because I only get to utilize my native tongue when I'm at home. I mean, you just have to conceal the foulmouth when you're around the family, right? So just imagine how often I want to pull the
malutong na P.I.M.
whenever I encounter some bitch around here. Like, seriously. A
bitch
,
go to hell
, or
fuck you
is never more hurtful than that or a
gago
or
tarando
. Am I right,
Talamasca
? :-P
So there.. I've paid my dues. And if that's not enough, my family finally got
The Filipino Channel
, and I'm afraid, I might be hearing more of Kris Aquino now than ever before.
Punyeta!