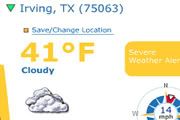 Images supplied by my Weather Channel Desktop. And yes, that's 41 degrees in a Texas spring afternoon.
This is insane. It's April 7th and normally by this time, the pool is already utilized due to burning heat. But instead, we're forced to dig into the deepest corners of our closets to bring out (again!) the supposed-to-be-retired sweaters because it's been freezing the past couple of days. The weather had been consistently lingering around the 60s, 70s and 80s the past couple of weeks, and now we're back to the 50s? Even worse, high today is at 38°F, and guess what, even a possibility of snow later in the afternoon! SNOW! In April?? I know, totally weird. Would make sense if we're in the skinny state of Colorado, but we're just right above Mexico, and we're getting snow in April?? I'd be jumping like a kid right now if it's Christmas season. But it's not. And my brother's driving tonight. It CAN'T snow!!!
American Doolittle
I just found out that I haven't talked about
American Idol
yet since the first few episodes. That's um, surprising. I would normally talk about it every week, make my silly predictions of who should go home or who would have the worst hairdo (this year, it's a no-brainer, obviously), but since my life has gone back to the colorful side, the blogs on reality TV has been apparently limited. But don't worry, my Miss Page Six persona is back to make a furious plea to
Sanjaya
's voting demographic... PLEASE, take that *insert offensive term here, I can't curse, it's Holy week* off that show!!! It's excruciating!!! ...err, not really. I'm not bothered anymore by Sanjaya's existence. As long as he doesn't stay longer than my favorites, I could care less.
Who cares if she looks like

Shrek

?? Pssh. Mean. Pokes head.
There's my girl!
Melinda Doolittle
, the obvious favorite to win the whole thing (once Sanjaya gets off the show, of course). Big voice, big head (literally speaking), and big boobs. Ok, that sounded lesbian-ish. But heck, what's not to love? She's freakin' awesome!! And hey... do you want to win some
dolares
? I thought I'd throw in a trivia question for those of you, broke pricks like me. Prize money courtesy of leftover
aguinaldo
... If you can only tell me the name of this Filipino guy my mother instantly thought of upon seeing Melinda for the first time. Clue. They look alike. Duh?
Normally, the boring days...
With no disrespect, I tend to have found the Holy days of Holy week to be the most boring days of my summer childhood. We were not allowed to come out and play
patintero
, due to our usual clamour that would disturb the neighborhood vigils, eating meat was also, and still is, a big no-no, and cable TV in our area was not yet in existence, that we had to stomach all the
Nora Aunor
films Channel 2 could possibly air.
But those days are gone. Capped by the annual marathons of
Seventh Heaven
on
Studio 23
(do they still do that?). Don't get me wrong, the Holy week means a lot to me, my family, and the Roman Catholic tradition. Believe it or not, I have my fair share of prayers, repentance, and mass attendance. But I'm not one of those devotees who sorrowfully commemorate the events that actually led to Christ's sacrifice for mankind. I understand, it's their form of recognizing the holidays, but... Ok, ok, I'm not gonna go on and on about this anymore, since it's pretty sensitive for funky me to discuss (and I don't want bitchfights this time of the year).
And just so you know, I have been penitently observing the no-meat-during-Fridays rule, settling on egg sandwiches (who cares about calories? It's Holy week,
magtika kayo!
), tuna subs from
Subway
(now, that's "healthy") and
dinaing na bangus
(marinated milkfish) from the Asian market... with rice, of course, and vinegar dip with crushed garlic. Ugh, I know, it's a sin to be gluttonous, especially this time of the year. But trust me, the
bangus
just fits the one-meal-a-day penitence. Promise!
In case I get raped again, let me be early and shove you a Happy Easter greeting. Enjoy :)