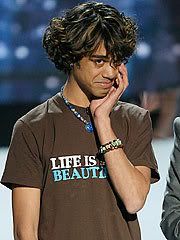 For some eccentric reason, I found myself on the verge of tearing up when Seacrest announced
Sanjaya
's departure from
American Idol
Wednesday night. Especially with that montage that seemed to have been extracted from this week's
SNL
. That kid was just... um, special? So special he merited a rare standing ovation from Simon Cowell! I repeat, from Simon Cowell!! I can only count with my five fingers how many contestants got that from him. Seriously. This kid's really something else! I mean, in all of six seasons that I've watched this show, no other popstar wannabe achieved the fame that was amassed by alternating hairstyles. Not discounting the teenage-factor and minority vote. 14-year-olds are crazy about him, proven
here
, which is somewhat confusing because I've always thought of the kid as a pending closet queen. Not to be sexist or anything, God knows how I LOVE gay people. But you know what I'm saying. Little girls can't be that dumb, worshiping a cute guy (in their eyes, and theirs alone) with exorbitant femininity. But he's gone, and shall never be back. Which caters the golden opportunity for the remaining contestants to play tug-of-war for the fame fondue Sanjaya left over. I mean, seriously. Besides
Doolittle
, Sanjaya was the only memorable thing from this season. Trust me. Our lives are forever scarred by him, his creepy little grin and that inescapable image of him
hula dancing
.
Movie Meme
Before I proceed, I just want to explain where the heck my header came from. It's simply a manifestation of my pop culture junkie-ness. A hodgepodge of some of my favorite movies and TV shows, from
Santino Rice
to
Vincent Vega
. I really, really wanted to add more but I had to stop myself from transforming it into a 3rd grader art homework. I actually thought I've overdone it, but heck, with all the misfortunes we experience in the world right now, I guess it's only fitting that we see colorful stuff around, including pathetic attempts in photoshop.
Snagged from
Alternati
. I'm a self-confessed movie buff, so in order to restrain myself by going too hyper about the survey, I'll limit myself to one answer per question. Although that's pain. :( But I won't put you through the spontaneous-blabbing-torture. Here we go...
1. Name a movie that you have seen more than 10 times.
Legally Blonde
(2001) - This movie is a comedic display of false stereotypes in the society. When you're blonde, you're presumably dumb. Not in the case of Elle Woods, a perennial valley girl, who pursues Harvard Law School to prove something to her ex-boyfriend. Her mantra may have been far off from the general goal of law students, but ultimately, Elle proves that all Cosmo girls are much smarter than what people think of them. Am I right, ladies? ;)
2. Name a movie that you have seen multiple times in the theater.
Bring It On
(2000) - A movie about cheerleading, with all its cattiness, isn't necessarily interesting, but I was a sophomore then, and I was with Michelle (my super girly-girl friend), and theatres in the Philippines allowed us to stay there the whole day. I watched it so many times that I've got the lines jampacked in my head. Until now. Seriously. Quiz me.
3. Name an actor that would make you more inclined to see a movie.
Leonardo DiCarpio
. DUH?
4. Name an actor that would make you less likely to see a movie.
Britney Spears
,
Paris Hilton
, and
Jessica Simpson
. Just stick to junk-exhibitionism, girls.
5. Name a movie that you can and do quote from.
"There's this passage I got memorized. Ezekiel 25:17. '

The path of the righteous man is beset on all sides by the iniquities of the selfish and the tyranny of evil men. Blessed is he who, in the name of charity and good will, shepherds the weak through the valley of the darkness. For he is truly his brother's keeper and the finder of lost children. And I will strike down upon thee with great vengeance and furious anger those who attempt to poison and destroy my brothers. And you will know my name is The Lord when I lay my vengeance upon thee.

' I been sayin' that shit for years. And if you heard it, that meant your ass." - Jules, Pulp Fiction, at the diner during robbery session.
6. Name a movie musical that you know all the lyrics to all of the songs.
I'm not a musical geek. I enjoyed
Chicago
and
Dreamgirls
, but that's about how far my interest goes. Does
Music & Lyrics
count though? "
I said I wasn't gonna lose my head, but then POP goes my heart
...
*higher pitch*
POP goes my heart
..." There y'go.
7. Name a movie that you have been known to sing along with.
Err, I'll just go with
A Walk To Remember
. They loved
Switchfoot
there. Quite awesome.
8. Name a movie that you would recommend everyone to see.
Unlike Alternati, I'm going to try to be nice. Watch
Wild Hogs
! It's freakin' genius!
9. Name a movie that you own.
I think we're stacked. But I have a special documentary film on VHS tape of the
Backstreet Boys
' world tour in the late 90s. Um, just thought I'd mention it. Potential eBay best-seller in the future.
10. Name an actor that launched his/her entertainment career in another medium but who has surprised you with his/her acting chops.
Ok, I'll diminish the one-answer-only rule on this one, because one spot isn't fair enough... First of all,
Tina Fey
is an expert at her craft but her acting was positively surprising. I really liked her character in -- not to mention, her masterpiece --
Mean Girls
, where she played a newly-divorced Algebra professor. It's one of those unpredictable roles in a film that suddenly bursts as an important piece of the denouement. And yes, gotta love the habitual sarcasm. Secondly,
Ludacris
's acting in
Crash
was the most surprising. It was very natural, and so believable that I instantly forgot that he was that rapper second-voicing
Usher
's "
Yeah
." And lastly, (and I'm echoing Alternati on this one)
Jennifer Hudson
. She won an Oscar, duh?
11. Have you ever seen a movie in a drive-in? If so, what?
I would love to, but I don't think they still have those stuff in the metropolitan.
12. Ever made out inside a theater?
13. Name a movie that you keep meaning to see but just haven't gotten around to it.
For now, there's just one...
Blades of Glory
. Please come out on DVD already!! :P
14. Ever walked out of a movie?
Yeah. It was that one with
Jennifer Lopez
. No, not
Gigli
. The less apalling one. Um, yeah, I think it was
Angel Eyes
. I believe I walked out forcibly because my friend's boyfriend was already pooping in boredom on the pool table. But that doesn't mean I wanted to stay put either.
15. Name a movie that made you cry in a theater.
The Notebook
? Err, so given. Um,
United 93
? Same thing. How about "
Labs Kita, Ok Lang?
" Dare tell me you don't know this. Gee, that movie was such a tear-jerker! I can still remember Royce's abrupt clutch to my arm when
Jolina
's character, Bugoy, was already confessing her feelings for
Marvin
's Ned on a cold Baguio night. Haaay. Sixth grade memories.
16. What's the last movie you saw in the theater.
Music and Lyrics. Man, I haven't seen a new movie in two months! This is war!
17. What's your favorite/preferred genre of movies.
Comedy, I guess. I dig serious stuff too, as long as they have wit all over them.
18. What's the first movie you remember seeing in the theater.
I was around 6-8 and it was in a movie theater in Cubao. I have vague memories of what exactly the movie was but I'm sure it had
Ogie Alcasid
and
Michael V.
in it. :))
19. What movie do you wish you had never seen.
American Dreamz
and Wild Hogs.
20. What is the weirdest movie you enjoyed.
Lost In Translation
(2003) - Watch
this
. It's so weird and hilarious, it's almost unforgettable.
21. What is the scariest movie you've seen?
The Eye
, bar none. And
The Descent
was pretty good too.
22. What is the funniest movie you've seen?
I'm not the most sophisticated movie goer, so I'm definitely giving this to the satirical smarts of
Borat
.
DONE. Relaying this to anyone who have plans of bumming out over the weekend. Enjoy! :-D