*** Long entry ahead. If you can't devote a good 10-minute readfest of a Texan's escapade to California, and with major camwhorage in tow, then this particular post is not for you. Scaramoosh!
I was planning to blog while I was in California, but my aunt's AOL dial up service was helluva crap, for lack of a better word. I'm over and done with dial up, so to sit infront of that computer for more than 15 minutes would actually be very patient of me. Unfortunately, that's yet one trait I'm planning to list in my new year's resolution, hence the short hiatus. But I'm back! With a new blog address, blog title, template, stories, and everything else. Long story short, I just got tired of the old stuff. Back to story...
As you know, I finally got my much awaited vacay the past couple of weeks and I got to spend each day with no less than my family. Expectedly, it was fun, but I never thought I'd be exhausted by the 3rd day. We were always on the go, there was always something to be up to, and not one day for me to indulge myself in that
tempurpedic bed
. Not that I didn't have a choice, but I don't want to give them the cold shoulder, especially that they only get to see me once in a blue moon. Nevertheless, I had a ball, and hopefully everyone else also did.
The rundown.
Day 1:
Eagle Rock Plaza
is about a 2-mile walk away from my aunt's place, so we chose it as our first destination. It's pretty small, and its basement is stacked with Filipino people, shops, and fast foods. We had lunch at
Jollibee
, had my first
Jolly Spaghetti
in years, and you bet, I was in heaven. The mall also has
Chowking
,
Goldilocks
,
Bench
and a huge grocery store racked with Filipino goods. It's like strolling in Megamall on a random Sunday morning. Then off we go to
Universal Studios
after lunch. It was only the four of us, but we had fun, nonetheless. Super bonding time.
Jolly Spaghetti; Universal Studios overlooking San Bernardino; Bagets Reunion with Hailey
Day 3: Hollywood Blvd. We just cruised through it, kodak-ed here and there then left immediately. Had dinner at
Max's Restaurant
shortly after, with my parents' old classmates and the rest of the family.
Sarap ng Crispy Pata, super na-miss ko
!
Day 4: Off to Rancho Sta. Margarita to visit our favorite cousins. Traffic and travel time are torture but it was all worth it upon seeing our first
pamangkin
. Then to Irvine to visit a friend, and back to LA to celebrate Tita Tess' birthday.
Day 5: Then the actual celebration. It wasn't really a huge party, just family and some friends. My
ninang
from Fresno came over, and a few others. We also watched the
Pacquiao
match altogether, and you can only imagine how bizarrely exuberant their celebratory cheers were after the 15-minute payperview. Quite expensive, 'no? But whatever. After seeing the fight, and the priceless look on that rich boxer's face, I finally realized why it was so important for Filipinos to support this boastful man. No matter how
yabang
he gets, he still bleeds for the country, so there, I couldn't help but go patriotic and appreciative.
Parang hindi bagay, 'no.
Day 6: Sunday, church day. After mass, we decided to eat
In-n-Out
for lunch, my first time! My people who've been in LA forever have been bragging about
their
burger for the longest time, so why not give it a try. But for real, it didn't taste any special. It's good, but the fries were even better. I still prefer
Sonic
's, and
Whataburger
's. But you know what's the best burger I've tasted?
Tropical Hut
's junior classic. Yep, that one back in the Philippines. To die fuckin' for! I'd give up a year without internet just to have one branch here in Texas. PLEASE!!! Branch internationally!!!
Day 7: It was all about Vegas. We left around noon, and arrived at about 4pm. Checked in at
Aladdin
, changed clothes and had dinner at
Buffet @ Asia
, then strolled the strip until 11pm. Papa and Auntie Rose still managed to go the Casino downstais and guess what? My dad won ten times his capital. Hahaha, I wish I had his powers. Woke up fairly early, had brunch at
Spice Market Buffet
, shopping at
Prim
, then back to LA before midnight.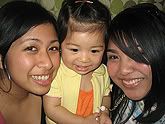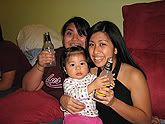 Strolling the strip with Bo and Han; Breakfast camwhorage with Hailey; Thanksgiving beerfest
Day 7:
Rodeo Drive
. I wasn't really expecting to see a celebrity since it's like a tourist spot now more than anything, but I saw a couple, a B-list and a G-list, I guess, hehe. I was in the same elevator ride as
Jon Lovitz
, and I was standing next to
Eugena
of
ANTM Cycle 7
in the valet parking. Seriously, of all the celebrities in the world, I got to see those two. How lucky!
Day 8: Thanksgiving. I really don't prefer celebrating tradional American holidays, but whatev, it was all in good fun. I almost did nothing that day though. Just rested, fixed my suitcase, and drank a little. And ate my
Chowking
siomai to go.
Day 9: Back to
Eagle Rock Plaza
for Black Friday. It was my first time to shop at
Macy's
, and boy do they have quality clothes there. Too bad I only got one piece because of my luggage space left, and this sweater I badly wanted had no tag on it that I couldn't bring it home. Eff it! Good thing there was Jollibee for lunch, I was calmed. Hahaha! Then
Kristine Hermosa
and
Anne Curtis
invaded the Filipino grocery. I happen to be an avid viewer of these Tagalog soap operas, but I never intend to be a so-called fan of theirs to actually line up and ask for their autographs. My mom, my aunt and my cousin were otherwise. They like Anne so much that they just had to squeeze into the
day-off
crowd and take pictures. Then guess what. This random
manong
comes up to me and says, "
maputi lang sila, at may make-up, mas maganda ka pa sakanila, magpapayat ka lang
", hahaha, the old guy just had to compliment this fatgirl to vent out his frustrations of not getting his poster signed.
Nambola pa
!
Bwiset
.
Day 10: We went to
Griffith Park
the previous night to see the light show which was jampacked that it got us home at around 10pm. Went to bed at almost midnight, woke up at 3am, to the airport and left Los Angeles at 6:15. What a crazy hour to fly. Seriously. But for some reason, it was a huge relief to see good ol' Texas again. Such a breath of fresh air.
Can you imagine, it's been two weeks, exactly this time, since the time that I was enjoying
McDo
's famous fries, waiting for boarding time en route to LAX. Man, how time flies so damn fast. Holidays are here, the ones I normally celebrate. Then I turn a year older, and funtimes will soon be over.