By accident, I tuned into
Lifetime
channel Monday night, a channel by the way that I never even notice. But as I was about to switch back to
USA
(
for RAW
),
this movie
's prologue started to roll, then I realized that it was
Kaley Cuoco
's docu-drama, the one she promoted on
The View
just earlier that day. The morning show's obstreperous quartet was discussing obesity and its cons for the whole day, thanks to Trumpo's childish remarks. But anyway, Kaley was there for the obvious reason, and then I was instantly intrigued by the premise. And since RAW's normally being recorded weekly, I've decided to sit through the whole movie instead.
Kaley Cuoco as Aly in Lifetime TV's "To Be Fat Like Me"
It's about Aly, a popular high school jock who missed an opportunity for an athletic scholarship for college because of an untimely injury. Desperate of making it to college, she looked for countless ways to make it, including begging her coach for another chance (to no avail), until a friend suggested that they enter a contest of film documentary. Getting the idea from others who disguised themselves as other sexes and races, Aly eventually agreed to document a life of a teenage fat girl. With the help of her cosmetic specialist neighbor, she easily looked the part in a fat suit, and soon after finalizing the look, she enrolled to a new high school and began the experiment. Aly's disguise was capitalized by her delightful personality which she believed would never affect her physical appearance. She was wrong. Because no matter how friendly she was to fellow teenagers, it didn't help her gain the popularity she has when she's being her normal tiny self. If anything, it only provoked narrow-minded people to poke fun at her even more. In her own little ways though, she tried to make it all different, starting with a new friend who also happens to be fat. She'd always relay words of comfort and courage, but at the end of the day, her opinion isn't what matters the most, because she's still not like one of us. She ultimately has no idea what we see, feel and go through every single day.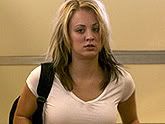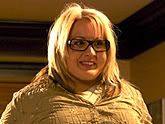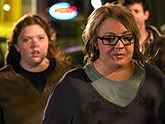 While watching the thing, I was saying to myself, "God, isn't that
you
?". I mean, I know I'm naturally big and all, and it's not because I wear a fat suit daily. It's just that, I've always been Ms. Personality, amidst cholesterol levels. I just don't and will never crucify myself by NOT liking what I see in the mirror. It's not that I'm entirely contented with this, but unlike Aly, I never give up. I will always refuse to think that my physical appearance should hinder harmonious relationships with people I get to be with every single day. But regardless of my positive outlook in life, I still recognize the fact that being fat has its fair share of discrimination, just like say, being the only Mexican person in Park City. Just like racism, bigotry towards fat people DOES exist, and despite being extra assertive about it, it will never go away. And I'm also aware that there are quite a number of girls my age who are embarrassed and aggravated with themselves, especially when that favorite pair of jeans doesn't fit anymore. But even if that has to be the repercussion of being fat, I don't even feel any remorse about being the way I am today, physically. I may be hurt at times but I avoid looking back and drowning myself in neverending shouldawouldacouldas. And what the freakin' hell?!! I'm enjoying my life right now --nevermind the waistline-- and I'm surrounded by awesome people who love, respect and accept me for who I am, inside and out. And trust me, I am doing something about it.