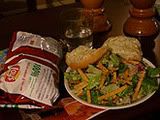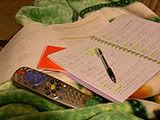 Rex Grossman's cute failure; a wannabe healthy meal; and some procrastination
I don't know where you were last night, but if you weren't watching the
Superbowl
, then you must be napping on the moon...or...fine, you must have a life! But me? Ha, I was one of 95 million Americans who enjoyed the championship juggernut. Cuddled up in my mom's limegreen sofa, I treated myself with some toast, salad and chips, while sharpenning my vocabulary and awaiting
Prince
's halftime extravaganza. I don't have the extreme love for football (
well, compared to the habitual tailgaters
) but I started watching the post season a couple of months ago when the
Cowboys
made it. They only lasted a game [
hahahaha, funny ending too!
] but who cares, all I was waiting for was the Superbowl...because Prince was about to steal the show, yo!

What? No

Little Red Corvette

??? Part one here.
So there he was and his horrible bandana, bringing the pizazz in the roaring stadium. Who would have thought that one stilleto-wearing performer (
apart from those who expose their boobs
) could generate an audience of foul-mouthed football enthusiasts who all willingly participated in swaying purple glowsticks in the air while there's a tsunami on the way? Only Prince! And you can't really say anything antagonistic about the whole thing. It was heavily raining, there's a gazillion electronics the man's putting his hands on, his hairdo was undergoing a major disaster, and yet he delivers a performance nothing short of spectacular. Whatta bad ass!!!
Honey, don't talk with your mouth full.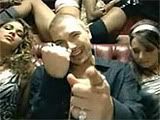 Ok, there's so much joy over
Peyton Manning
's
best QB without a ring
nickname farewell, and although he deserves that, I can't believe this year's ads aren't snagging mad props! I know, there were some really corny ones, but come on. That gay lion thing was hilarious! And
Kevin Federline
's too! But I wouldn't go as far as liking that
Snickers
commercial. Men making out over a chocolate bar? Totally not for me. There goes my answer to your query,
Charles
! Haha. But if I were to have a favorite, it's gotta be
this
.
Oprah
and
Dave
snuggling with some popcorn and NFL game? Classic!
Just when I was already getting into this bizarre sport, it had to take a break. Oh well...