Spring is here, my favorite season, as you all know. The cold winds, bright sun, and blossoming flowers make up for the dry, itchy, and freezing winter that irked our heels, elbows and scalps every single day. It's the perfect season for picnics, photography, lake dates (too frumpy but who cares), and outdoor yoga (whatever that means).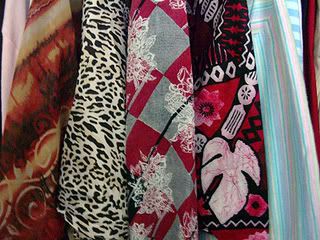 My prints!! Love 'em or hate 'em.

I was so excited because the pool will be a daily exercise engine again, the highways wouldn't be a battlefield anymore, and I'll be able to wear my favorite tops with no longer messing up the sleeves (that was caused by default mechanism of layered clothing). So I cleaned up my closet over spring break, stacked my winter clothes on the other side, and put the spring/summer clothes on the accessible side. But how about a major killjoy? Just when I was about to jump out with my cropped pants and hippie top, the weather had to be pissy and blow us 50-degree winds. Well, that's not saying much compared to the "spring" New York has been having, but come on, 50s are for early fall, we're supposed to be in the 70s, not some foreplay to winter! But enough with the bitching. The weather has been fairly cooperative today, and I hope that it continues to be like this the following week, 'coz I'm not going back to school with a turtleneck on. Please.
Deuce Prize!
Don't leave!!! I'm not gonna drive my fanaticism up your clueless ass yet again, nor pursuade you to obsess with me. But I just thought I'd share the news here, for women may especially be delighted by it...
Wimbledon
and
Roland Garros
decide to pay women the exact same amount of prize money given to men after years of seemingly pointless debates. The old-fashioned grandslam juggernut (Wimby) finally wakes up in the 20th century and realizes that women are already accustomed to wearing pants, driving trucks, and mowing the lawn. The French Open emulated the maneuver shortly after.

Mike and Tony debate. Who's worse,

Antonella

or

Sanjaya

?

Now that all slams have committed themselves to equal pay, someone closeminded just had to rain on the parade.
Tommy Haas
, currently ranked #9, bitches that men are playing 5-setters during grandslams compared to women's 3, therefore he disagrees with the decision. I guess it would have made more sense if somebody like
Federer
was the one contradicting it, but Haas? Um, by any chance he stumbles upon this blog, or if Lizette advices him that a certain blogger is trying to sabotage his resurging career, here's an open letter that will hopefully avert his selfish opinion.
Tommy,

A five-setter is never compulsory. Just play damn well and you'll easily get a win within three sets. But you're simply not the Top 5 player you were centuries ago, hence you felt the need to unmask your inner sexist and inform the world of your irrational opinion. You openly deprecate women's ability to compete to your level because they never have five setters? Well, how about playing under the exceedingly hot sun, in a crucial first round match, with only a visor helping you continue breathing while tracking the rapid yellow ball. Sharapova, as huge as she appears to be, the teenager nearly died on that match, while you were granted either an indoor court or match suspension. Just try juxtaposing Rafael Nadal's biceps to Daniela Hantuchova's legs. Let's see if that particular comparison can provide anything have your stupid argument make sense.

A female tennis fan,
Kai

One more time, please. Just let me write about it. *cue soap opera music* If it displeases you, then I'll let you go. I just have to let it out!!... Ok, so I had been waiting for this match-up for YEARS!! (2 years and 3 months to be exact.) Finally, the draw worked on my horny eyes' favor and set up a semifinal clash between two of the hottest men in sports today. OMG. California desert was sizzling to death!!!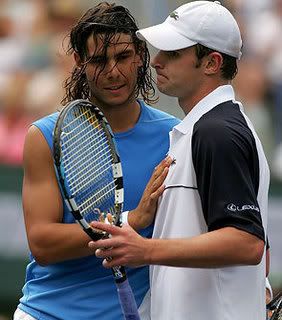 Wherever Andy's hand is remains to be an enigma.
Oh my gosh! You're totally imagining it, hahaha!

Man, was that the spring break? Gee, I'll be back in school with no stories in tow! "
How's your break?
" "
Oh, I just watched tennis, basketball and a lot of VH1. Lame, right?
" Yeah, I'll only embarrass myself. Might as well start gathering some ideas now and fabricate a cool spring break story...