I haven't blogged for a week (borderline hiatus for the avid blogger in me) because of vexatious school work. Professors decide that they would pollute us with chapter tests a week or two before Spring break with little review and (when they're feeling shitty and their husbands aren't home in time) no reminder at all. But don't worry, I have all the blood in the world to sustain the stress and the variety of Southern accents.
I'll spare you my boring college stories, there's not much to talk about anyway (translate: no boys at all!). So, let's see... I have a crapload of other stories to share with you, but it requires major randomness. I hope it's ok. I mean, you know, I've never really been random here...
I went to the movies with Rutendo last Friday. Ok, let me explain the name first. I mentioned her here before as Retunda, because that's how I always heard her being referred as. Little did I know that I have been mispronouncing (let alone, mispelling) her name all this time! I was editing my phone, in her car, when I finally garnered the guts to ask her the real score.
Me:

"So how do you really spell your name?"




Rutendo:

"Oh, it's R-u-t-e-n-d-o."




Me:

"Oh, so it's R-u-t-e-n-d-a. Rutenda. Right? I've been calling your Retunda, and you don't say a thing? Haha, I'm really sorry."




Rutendo:

"It's actually, O. Rutendo. But that's okay, everybody does that."
I was so embarrassed!!! Like fuck! This person's taking me to a girls night out, and I don't even know her name! And would you believe, I also once called her Roshunda? Stop laughing, please.
So anyway, as I've said, the bonding session pushed through, despite my self-produced humiliation. It's your typical girls night out, without the halter tops on disco floors, and vigorous flirtation with the opposite sex. It was just the two of us, enjoying our pink beverages at
Friday's
, exchanging life's horror in OMG-are-you-serious fashion, and a couple of movies to cap the night off. We watched
Music and Lyrics
, which was so cute, (I mean, who would pass up a chance to see
Hugh Grant
half naked, right?) and
Wildhogs
, which was... ugh, apalling, for lack of a better judgement. I wanted to warn her that the movie would be disastrous (judging from the film connoisseurs), but she insisted. It's her part of the treat, so why not. But damn, 20 bucks for that movie? Trash. That's already four mojitos for the two of us!!
Good thing Hugh Grant's effortless wit was spot on, or I'll forever remember that night as the night I saw four 50-something guys skinny dip. Altogether. Yikes! Nevertheless, we had a blast. If the weather wasn't just chilly, and if my mom wasn't practicing her being a mom (to a 12 year old, as she still sees me to be), I would definitely grab her to uptown Dallas where the real fun is. Well, maybe next time. When the gays are out and about. That'd be crazy fun! :))
Oh, so it's already March. I had to go through my planner first before actually reminding myself that another month has passed and my diet hasn't started yet (like it gets me somewhere). But aren't planners supposed to be helpful, and priority-oriented? Yeah, right!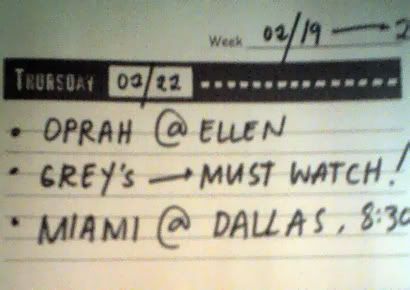 Who puts Oprah in their gawdemn planner?!?!!
And you bet, I had the exact same thing in my phone. Can you blame me?
Ellen and Oprah
together, only happens once in a blue moon! It's like hitting two birds with one stone. Ha, there's some American idiom for you. I just thought I'd insert one, since haven't been exercising that part of speech here in my blog so... Anyway, in my HDEV journal, I confessed that I have enormous priority issues. Like right now. I'm supposed to be making love with the ruler (figuratively speaking, you pig!) and the graphing paper, but here I am, talking to you about my life's nonsense. I really have to rehab this... or my mom will bitchfight with me again.
Speaking of my mom, we're finally talking. I overheard (but of course, pretended that I didn't hear a thing) that she was studying something for her new job at Coppell, so she needed an updated Internet Explorer. Being enemies with me didn't benefit her all that much, she was forced to work with my brother's hemorrhaging computer. But can I be any eviler? The softie in me approached her and offered my much more functional machine, I was going downstairs anyway, to find solace in sharpenning my graphing skills. She smiled at me and asked me if I was still mad. Will I nod, hurting her even more by my blunt animosity? (Yes mom, I'm not over your harsh behavior, so be sure you're off my desk after 2 hours.) DUH, of course not! Only bad daughters do that. But she apologized, and for me that was enough. She was the bitch in that certain exchange of abrasive tempers, so I'm glad I'm in the receiving end of apologetic approach. And I love my mom. She just needs to control the nerves when something she wants is not being done right. As do I.
And may I just share... A close friend of mine from way back in the days (
Eira
,
si Donita
, remember?) is currently working for the
ATP
(men's professional tennis chuvaloo). She's my personal connection to
Federer
and co., and she never fails to message me everytime something interesting happens. Like this most recent one.
sisssss!!!!!

naku isusumbong ko lang sayo si rafa! sinundo ko sha sa airport, shempre sikat sha kaya andaming nagpapicture.. aba nagsumbong ba naman sa atp officials na andami raw nagpapicture sa kanya. at ako ang itinuro nya. nuku... gigil na gigil tlga ako! gusto ko sha kurutin sa pwet. haha!!
If your Tagalog is pathetically incompetent, let me summarize the thing for you... My friend's basically telling me that
my favorite player
is a dickhead for blowing off fans in the aiport, and even blamed her for his displayed rude behavior. Ok, this seriously turned me off. Not that he had the balls to blame a pretty lady for his excuse, but shove off fans? Gee, Rafa. You're not getting a second date from me. I swear!
Well, that's about it... I'm off to torture my brain cells with slopes once again. Have an awesome week, my friends! And remember, if you're planning to watch Wild Hogs, take my advice. For major boyfriend points, go to a local bar instead, watch some incredible
Mavs
game, and drown yourself in margaritas. In other words, it's not worth it. Unless you've been craving for a tattooed
Ray Liotta
and a half naked (with sagging man-boobs, no less)
Travolta
.